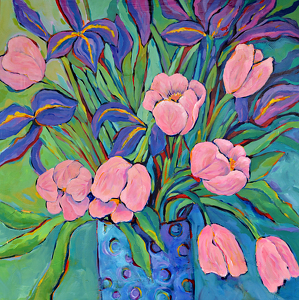 Irises and Tulips
40"x40"x1.5"
Acrylic on Canvas
Sold
A couple of years ago, I received a beautiful bouquet of pink tulips and purple irises for Mother's Day. I decided to take a few pictures of the arrangement and try to capture the lush colors on canvas. After several days of working of this huge canvas, I finally reached that point when I knew I was finished and there was nothing more to add.
Today, the painting found a new home and I'm a little sad to see it go. But, I know that it will go on to bring a little color, and hopefully, some joy to someone else.
**********
I'm thrilled to announce that I will be the guest on
tomorrow, January 29
at 12:00 noon PST
I hope you will tune in!
**********
Original abstract painting
by
Texas Contemporary Abstract Artist
Filomena de Andrade Booth
Prints of this painting are now available. Click
here
for more information!
Click
here
to get my monthly art newsletter!